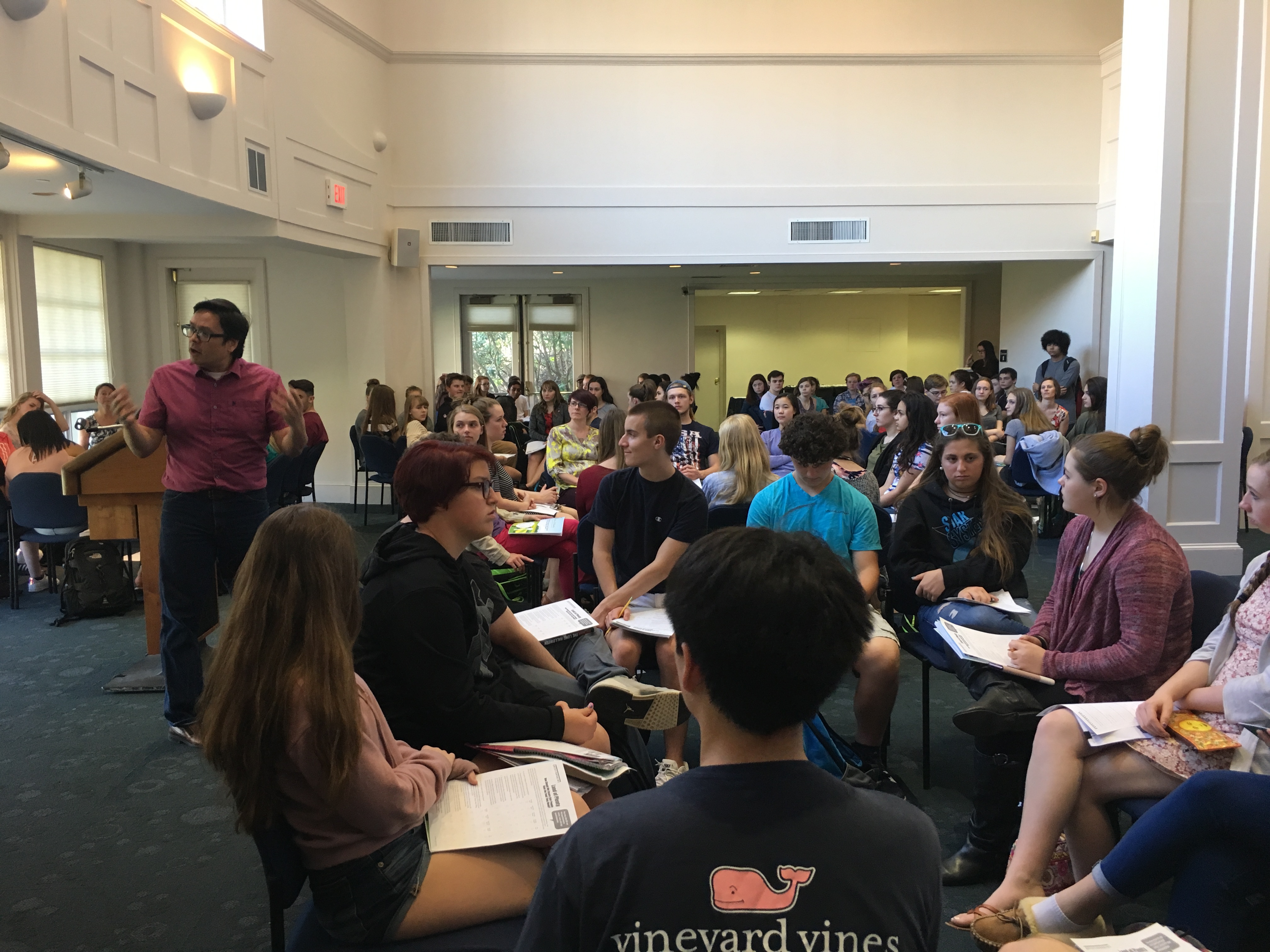 Upcoming Events
Wednesday, October 18th, 2017
04:00 PM - 05:30 PM
Storrs CampusUCHI Conference Room, Babbidge Library 4th Floor
Join us as UCHI's Draper Dissertation Fellow Sarah Berry Presents: "Speaking for the Community: The Chorus in Post-War Verse Drama."

Get to know our fellows:
http://humanities.uconn.edu/other-events/
Thursday, October 19th, 2017
11:00 AM - 12:30 PM
Storrs CampusBabbidge Library 4/209
Sponsored by the Humanities Institute and the Public Discourse Project, the SEWing Circle Working Group is a place where researchers present current work on topics in and around social epistemology.

This week's speaker is Hanna Gunn.

Participation by invitation only.


http://humilityandconviction.uconn.edu/working-group/
Wednesday, October 25th, 2017
04:00 PM - 05:30 PM
Storrs CampusUCHI Conference Room, Babbidge Library, 4th Floor
UCHI Dissertation FellowAlycia LaGuardia-LoBianco presents: "Self-Injury, (Body) Shame, and Agency."

For more information on this fellow, see: http://humanities.uconn.edu/2017/10/02/get-to-know-our-fellows-four-questions-with-alycia-laguardia-lobianco/
Thursday, October 26th, 2017
04:30 PM - 06:00 PM
Storrs CampusStern Lounge AUSTIN 217
Author Reading and Talkback with Stephen Clingman of University Massachusetts at Amherst

"Birthmark: Divided Vision & the Coming of Perspective"

Professor STEPHEN CLINGMAN will read from Birthmark (University of Massachusetts Press, 2016), a memoir of divided vision in the divided world of apartheid South Africa. When Stephen was two, he underwent an operation to remove a birthmark under his right eye. The operation failed, and the birthmark returned. Clingman takes the fact of that mark — its appearance, disappearance, and return — as a guiding motif of memory. In a beguiling narrative set on three continents, this is a story that is personal, painful, comic, and ultimately uplifting: a book not so much of the coming of age but the coming of perspective.

Stephen Clingman is Distinguished Professor of English at the University of Massachusetts. He is also the author of Bram Fischer: Afrikaner Revolutionary, which won the Alan Paton Award, South Africa's premier prize for non-fiction.

Copies of Birthmark will be available for purchase and may be personalized at this open to the public event. Contact Barnes & Noble at Storrs Center to order your copy in advance. For Info about this event, please email Cathy.Schlund-Vials@uconn.edu .
Friday, October 27th, 2017
12:20 PM - 01:15 PM
Storrs CampusAUST 434
Brass City, Grass Roots: The Persistence of Farming in Industrial Waterbury, CT, 1870-1980

This talk is based on a book in progress on urban agriculture in the city of Waterbury, Connecticut from the late 19th century to the late 20th century. While most of the literature on farming assumes that it died in industrialized cities by the time of the Civil War, this project shows that farming persisted not merely as a residual activity but one that existed in a dynamic relationship with the growing industrial city. The project is not just an urban but an immigrant/ethnic history. It provides new insight into the food production activities of immigrants in this New England city [and by extension, others in the Northeast]. The work shows that not all immigrants in the East were involved in what we think of as the more urban occupations of factory work, construction, and store proprietorship. While most literature about immigrant farmers portrays them in the Midwest, Plains, and further west, this book project restores their East Coast history. The project challenges most historical narratives of farming and community gardening as well by suggesting that there was an ambiguous line between farming and gardening. It shows that subsistence gardening often took place informally, not just in the confines of war, economic crisis, or episodic educational fads. Moreover, oral history interviews show that food producers had varying perceptions of themselves as farmers, gardeners, or entrepreneurs.

The project also uses GIS maps to show the placement of farmers and other food growing, processing, and marketing firms in a series of snapshots spanning nearly a century. Study of the landscape, including the still existing physical remnants of agricultural activity, are integral to this work, which spans history and historical geography.

Ruth Glasser is an Assistant Professor in Residence in Urban Studies at the University of Connecticut's Waterbury campus. This year she is working on this book project as a scholar at the University of Connecticut Humanities Institute.