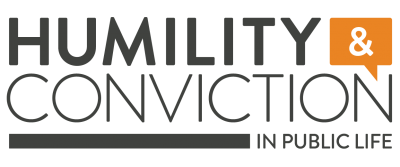 How can we balance our most deeply held convictions with humility and open-mindedness in order to repair public discourse? This was the central question guiding Humility and Conviction in Public Life (HCPL), a research and engagement project investigating how intellectual humility—being aware of our own cognitive limitations and biases, and being responsive to the evidence—can promote healthier and more meaningful public conversation. Sponsored by generous grants from the John Templeton Foundation and the University of Connecticut, HCPL was an unprecedented combination of research and engagement. The project was hosted by UCHI for the purpose of elevating the tone and outcomes of public discourse in our society and ran from 2015 through 2020. It led to many collaborations and publications, and continues to produce scholarly outputs. This website serves as an archive of the project's activities through Spring 2020.

News and Readings
Lauren Swayne Barthold is the author of a forthcoming book entitled Overcoming Polarization in the Public Square (Palgrave). Lauren teaches ethics and conflict transformation at Endicott College, and also serves as program developer for the Heathmere Center for Cultural Engagement. The book is in part a result of a two-year HCPL-funded project on which she […]
[Read More]
Robert Talisse is co-author of a new book coming out in Spring, 2020 entitled Political Argument in a Polarized Age: Reason and Democratic Life (Polity Books). Robert served as a member of the Humility and Conviction in Public Life's advisory board and he is currently a professor of Philosophy at Vanderbilt University. His current research concerns Democracy, Liberalism, Pluralism, […]
[Read More]
University of Connecticut sociology professor and HCPL core faculty Ruth Braunstein has a new book entitled "Religion, Humility, and Democracy in a Divided America." This edited volume explores how religion and religious convictions shape American political life, both as drivers of polarization and as agents of political engagement. Ruth's other books include Prophets and Patriots: Faith in […]
[Read More]
Events
The University of Connecticut Law School and Connecticut Law Review are hosting a symposium entitled: "How We Argue: The Moral Foundations of Politics & Law." The symposium, which will be held on October 11 from 8:30AM to 4:30PM will feature a keynote presentation by Danielle Allen (Harvard), as well as remarks by political commentator and former […]
[Read More]
Friday, May 24, 2019 4-7pm Dodd Center Auditorium With Dr. Åsa Wikforss (Stockholm University), Dr. Michael Lynch (University of Connecticut), Dr. Tali Sharot (University College London) Sponsored jointly by the Science of Learning & Art of Communication (SLAC) program and the University of Connecticut Humanities Institute (UCHI) How can we present scientific information to the […]
[Read More]
Online, interactive ZOOM event Thursday, May 9th, 2019 12pm-1pm
[Read More]
Engagement
Encounters presents a public discussion on the history of the Ancient Burying Ground and hundreds of African-American and Native American people buried there. The discussion will take place on Saturday, September 21 10AM–12PM at the Hartford History Center in the Hartford Public Library.
[Read More]
"How ought we to believe?" For the participants at The Conviction Workshop, this question raised a number of concerns about the nature, function and appropriateness of "conviction." As a moral, cultural, emotional and political concept, conviction bridges the ground between belief and action. For some, moral convictions can serve to protect or correct normative structures; […]
[Read More]
The Encounters Conference at the UConn Hartford campus on November 17, 2018 was an overwhelming success. There were so many community members there to discuss and learn to lead their own discussions.
[Read More]