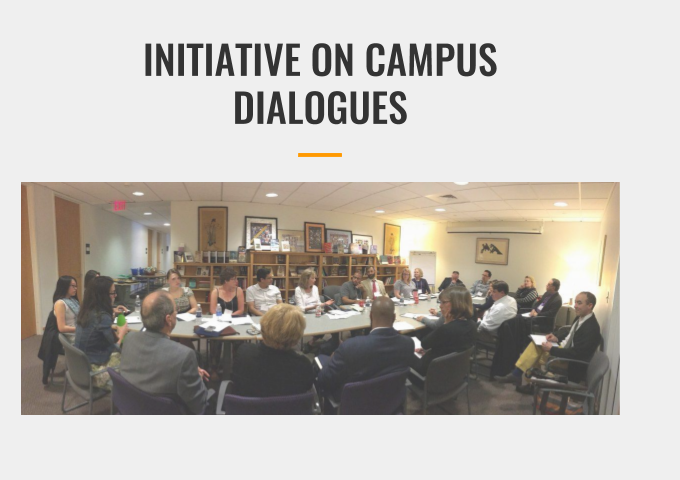 The Initiative on Campus Dialogues (ICD) is a working group organized as part of the project on Humility & Conviction in Public Life. This initiative seeks to bring together research in the humanities with community outreach and engagement. This community-building exercise brings together UConn students, staff and faculty, as well as non-university practitioners, around a two-step model focused on dialogue and implementation.
ICD is currently identifying concrete steps toward creating resources and networks by which dialogue can be robustly and collectively pursued and promoted within the UConn community and beyond. Ultimately, ICD aims to plan and promote productive dialogue over divisive issues in order to create sustainable and infrastructural change, at the university and local level, in the tenor, tone and hopefully outcomes of how we discuss controversial topics.
ICD Working Group
This "research meets practice" working group meets biweekly at UCHI on alternate Wednesdays, from 2:30-4:00 PM to discuss best practices, dialogical methods, institutional roles, partnerships and implementation. Please join us! 
For a list of speakers who have presented at the working group, please visit this page.
Encounters Series
In Fall 2016 and Spring 2017, Hartford Public Library in co-sponsorship with the project on Humility & Conviction in Public Life invites the greater Hartford community to share in the creation of Encounters, a series dedicated to fostering unexpected conversations around our most divisive issues. This program is focused on furthering dialogue by offering a space where others may be able to discuss, challenge and question their own positions. The Encounters Series has two main focuses: Talks (Hartford Public Library and UConn) and Reading Groups.
Read about the Encounters Series here at the Hartford Courant!